On the 28th march all EPQ students held their presentations which outline the process and completion of this qualification. The presentation is a key component of the extended project and thus great effort went into producing them. They were joined by a group of year 12 students, Ms Mclean and Ms Blackbird.
The following research areas investigated were as follows: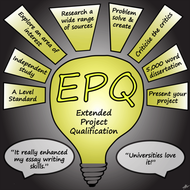 Gestopa : Investigating crispr cas9 and whether it should be allowed.
Oliwia Zawada: Investigating the link between violent music and behaviour.
Owen Kearney: Investigating whether a two-state solution is possible between Israel and Palestine.
The presentations turned out to be very effective at outlining their research process and informing their audience about their topic area. We are very proud of their achievements in persevering through getting to this stage in their EPQ. We wish them all the best in their final submission of their projects.